Social Justice and Activism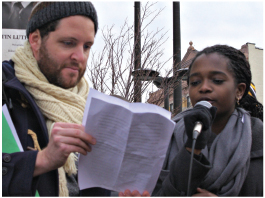 Manhattan Country School teaches students not only to know about the world, but also to play an active role in making it better. Students are cultivated to be agents of change who bring passion, perspective and intellect to solve the world's problems.
Your donation to the Annual Fund supports:
Our students as they discover their voices, stand up for their beliefs and work together to create change.
Engaged citizenship among students who are aware and act upon the inequities they see in the world by engaging students early in the concepts of social justice and activism.
Community involvement beginning in the younger grades as students discuss the value of work and workers by studying the Post Office, collecting pennies for the Penny Harvest to fund grants and service projects to better their community and studying equal access to clean air and healthy food in other parts of the world.
Your generous contribution to the Annual Fund supports social justice and activism programs at MCS.