Progressive Education/Teacher Training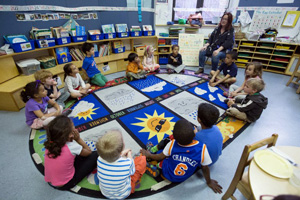 Manhattan Country School embraces teacher training as an important part of our public mission and our approach to progressive education, both in the city and at the farm. We host student teachers from Bank Street, Teachers College, Sarah Lawrence, City College and other teacher-training institutions. In addition, we strongly believe in developing our own teachers professionally through participation in conferences, workshops and an international teacher exchange program to facilitate educational dialogue.
Your donation to the Annual Fund helps our teachers to:
Develop a richer academic program for students.
Lead professional development workshops and host conferences on MCS' core values of progressive education, diversity and sustainability with a wider audience. MCS was chosen to host the national 2015 Progressive Education Network (PEN) conference due to our legacy of developing curriculum that addresses diversity, sustainability, social justice and partnerships with public schools.
Train student teachers to design and teach innovative curriculum rooted in principles of progressive education, multiculturalism and social justice. Student and assistant teachers who train at MCS gain unique experiences and then go on to work at public, charter and independent schools.
Your generous contribution to the Annual Fund supports teachers and our public mission.