Embracing the Shift of the Print Provider Role to Forge Business Growth
Below is an excerpt from an article about the need for communications technologies in the print and distribution industries that appeared in Print Solutions, PSDA's flagship monthly magazine. To download the entire article, click the link on the right.
One of the more surprising findings in InfoTrends' study of the enterprise communication market is the key role print providers are playing in serving firms' multichannel marketing needs, as highlighted in Figure 3. Marketers and communication decision makers are turning to print providers to support a variety of digital media and marketing services. As survey respondents indicated, the top reason for selecting a print provider was the company's ability to provide a broad range of services and capabilities.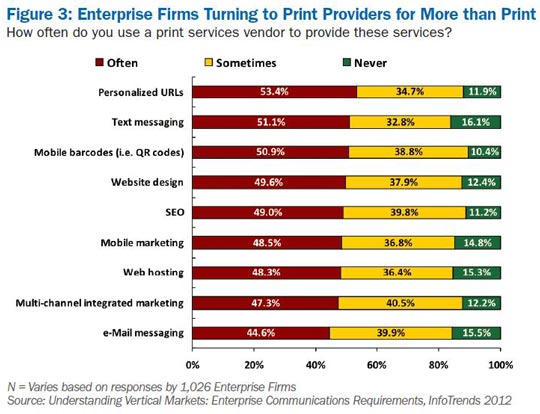 In-depth interviews with communication decision makers at enterprise-size firms indicated that expanding services offers print vendors the opportunity to capture more work. However, interview respondents were quick to note that service expansions need to be accompanied by a corresponding shift in sales approach, where only taking print orders is replaced with offering solutions to their real-world challenges. According to interview participants:
"My print vendors do their job, which is print my work, but I wish they would do more. There is no initiative taken by my print vendors to offer me more services or help me solve business problems." — Marketer, Medical Devices, Northeast
"Printers could offer more services and options. Most are order takers and can't think out of the box. We want to work with companies that think out of the box." — Print Buyer, Manufacturer of Car Products, Southeast
Find Out What Today's Distributors are Doing to Enhance their Business Strategy and Grow their Companies.
With new and emerging technologies, products and advancements in print, PSDA's year-round resources and events help you stay engaged, and informed. The upcoming Distributor Solutions Expo, April 23-24 in Chicago, provides an ideal environment for distributors and manufacturers to network and learn about the newest technologies and services to help you make informed business decisions that can benefit your customers. Make this important investment in your company today. Click here to learn more and register to attend!